...From Grace
Rhinox
Description:
Rhinox
Creature Collective; Chapbook 18
__________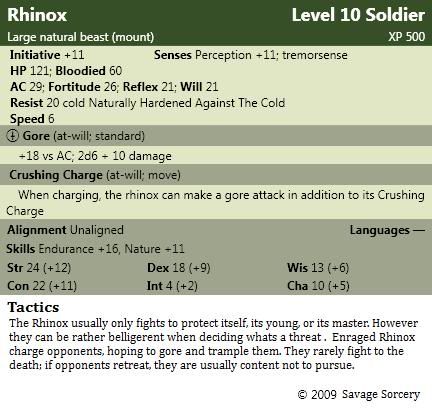 Bio:
Rhinox
Creature Collective; Chapbook 18
__________
Rhinox (pronounced /raɪˈnox/), is a name used for one of a group of four extant species of odd-toed ungulates in the family rhinocerotidae or Rhinoceros family. Two of these species are native to the Southern Fields, the White and Black Rhinoceros, one roams the central plains, the Red Rhino, and the last one, the Rhinox, thrives in the Northern Wastes. Two of the species the White and Black Rhinoceros are critically endangered. It is estimated that there are fewer than 2,000 individuals are remaining in the wild.
The rhinoceros family is characterized by its large size (one of the largest megafauna alive today), with all of the species able to reach one ton or more in weight; herbivorous diet; and a thick protective skin, 1.5-5 cm thick, formed from layers of collagen positioned in a lattice structure; relatively small brains for mammals this size (400-600g); and a large horn or horns. They generally eat leafy material, although their ability to ferment food in their hindgut allows them to subsist on more fibrous plant matter, if necessary. Unlike other perissodactyls, the Northern species of rhinoceros, the Rhinox, are able to subsist on virtually any plant matter, commonly eating grass or stripping the bark from trees and consuming it.
The rhinox is prized for its ability to be domesticated and used as a pack animal. They are on average a bit smarter than their kin and readily bond with a caretaker. The Rhinox has seven horns, three on the snout and two on each side of the neck. Abviously an adaptaion for surviving the cold and hostile Northern Wastes. Their horns are keratin, the same type of protein that makes up hair and fingernails. Rhinox's have acute hearing and sense of smell, but poor eyesight. Most live to be about 60 years old or more, its not unheard of for one to outlive its caretaker in captivity. Regrettably, the Rhinox are incabable of breeding in captivity.
The Rhinox has an immense body and large head, a short neck and broad chest. The rhinox can exceed 4,600 kg (10,000 lb), have a head-and-body length of 4.6 – 6.096 m (15 – 20 ft) and a shoulder height of 200 – 243.84 cm cm (6.6 – 8 ft). On its snout it has three horns. The two side horns are larger than the middle horn. The middle horn averages 90 cm (35 in) in length with the two side horns easily exceeding 150 cm (59 in) in length. The Rhinox also has two prominent horns on each side of its neck, these are purely defensive in nature and one would assume that they evolved to protect their only vulnerable spot, the neck, from the fierce predators of the North. The horns average 90 cm (35 in) in length. The Rhinox also has a muscular hump that supports its relatively large head and allows the Rhinox to be a powerful opponent using its horns as weapons.
The colour of this animal is primarily slate grey, but some exhibit lighter tones and though uncommon, pure white Rhinox are not unheard of. One main difference is that the Rhinox is covered in fur, unlike their cousins, this is another adaptation to the bitter cold enviroment from which it hails.